If you're renovating your kitchen, you can choose from a variety of countertop materials, including laminate and stone. But when it comes to the ideal combination of accessibility and resilience, butcher block countertops are always the top choice.
These days, wood countertops sometimes referred to as butcher block counters are preferred by numerous homeowners since they can add warmth to a kitchen. It is reasonable why butcher block countertops are popular in modern kitchen layouts as they give off a touch of rustic charm and are especially important for creating the atmosphere of a modern country kitchen. Even some of the sleeker, more angular components of modern or contemporary kitchens can be softened by their presence.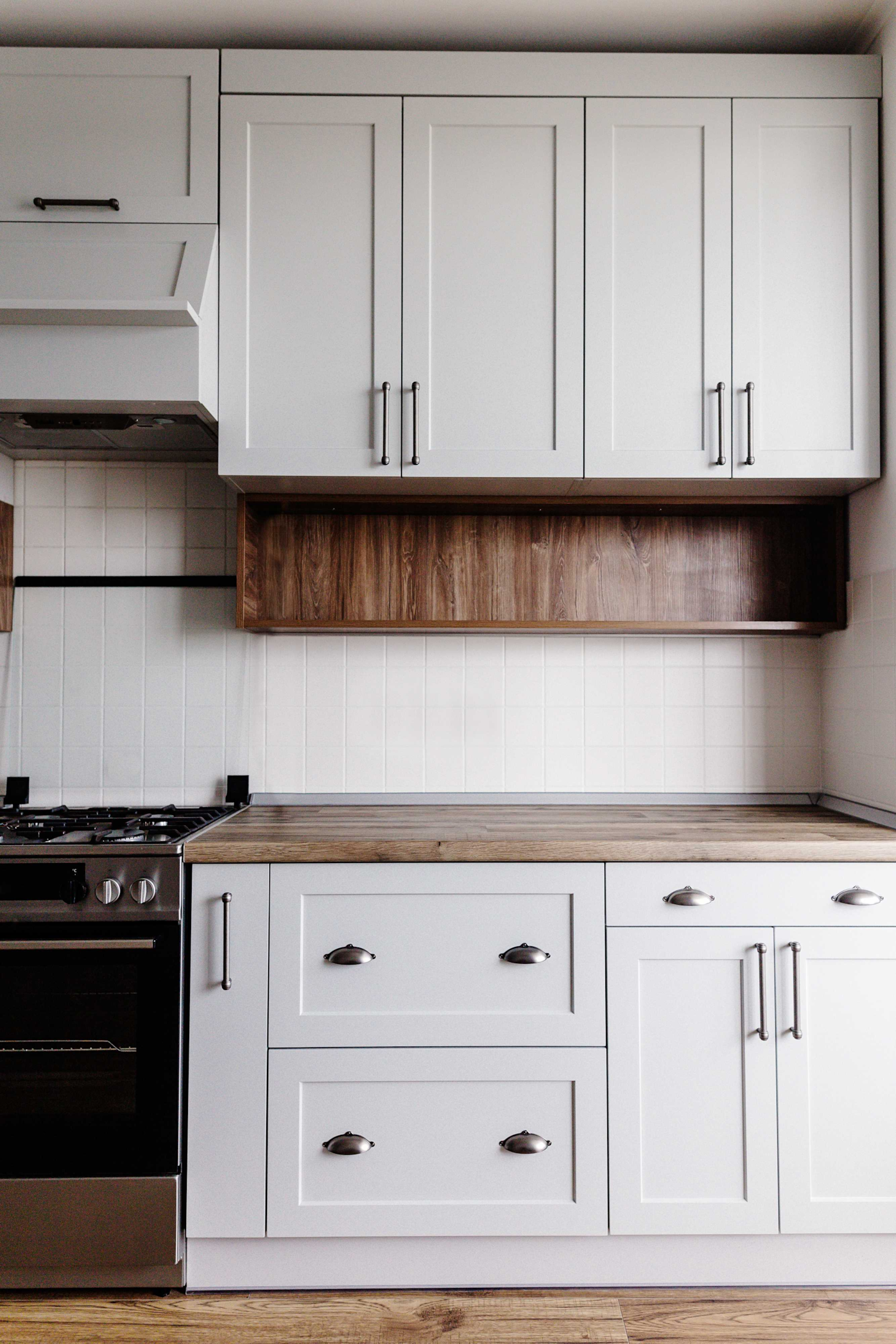 This standard kitchen material, which comes in a huge selection of designs and stains, offers a finish that resembles furniture and enduring beauty. Today, TTH Builder will give you a hand in making your choice of a countertop that you'll adore for years to come.
We have selected our best butcher block kitchen countertop ideas to show you how you could employ this material in your kitchen. Keep reading to find the most suitable layout for your kitchen!
Why You Should Install Butcher Block Countertops?
An outstanding option for any kitchen is a wooden countertop since it gives the room dimension, warmth, and bold touch. It could be a butcherblock countertop, one covered in chevrons, one made of wood tiles, or one with a living edge. Having a butcher block kitchen counter not only creates a natural beauty for your room but can also go well with practically any type of kitchen, whether it is rustic, modern, minimalist, or contemporary.
Compared to stone surfaces, butcher block is more economical (about $20 to $60 per square foot). It is constructed from wood pieces that are joined to create a larger slab. Wood from natural resources such as cherry, maple, oak, walnut, and even teak have all been used to make butcher block countertops in the past. The type of finish you select totally depends on the design of your kitchen and home.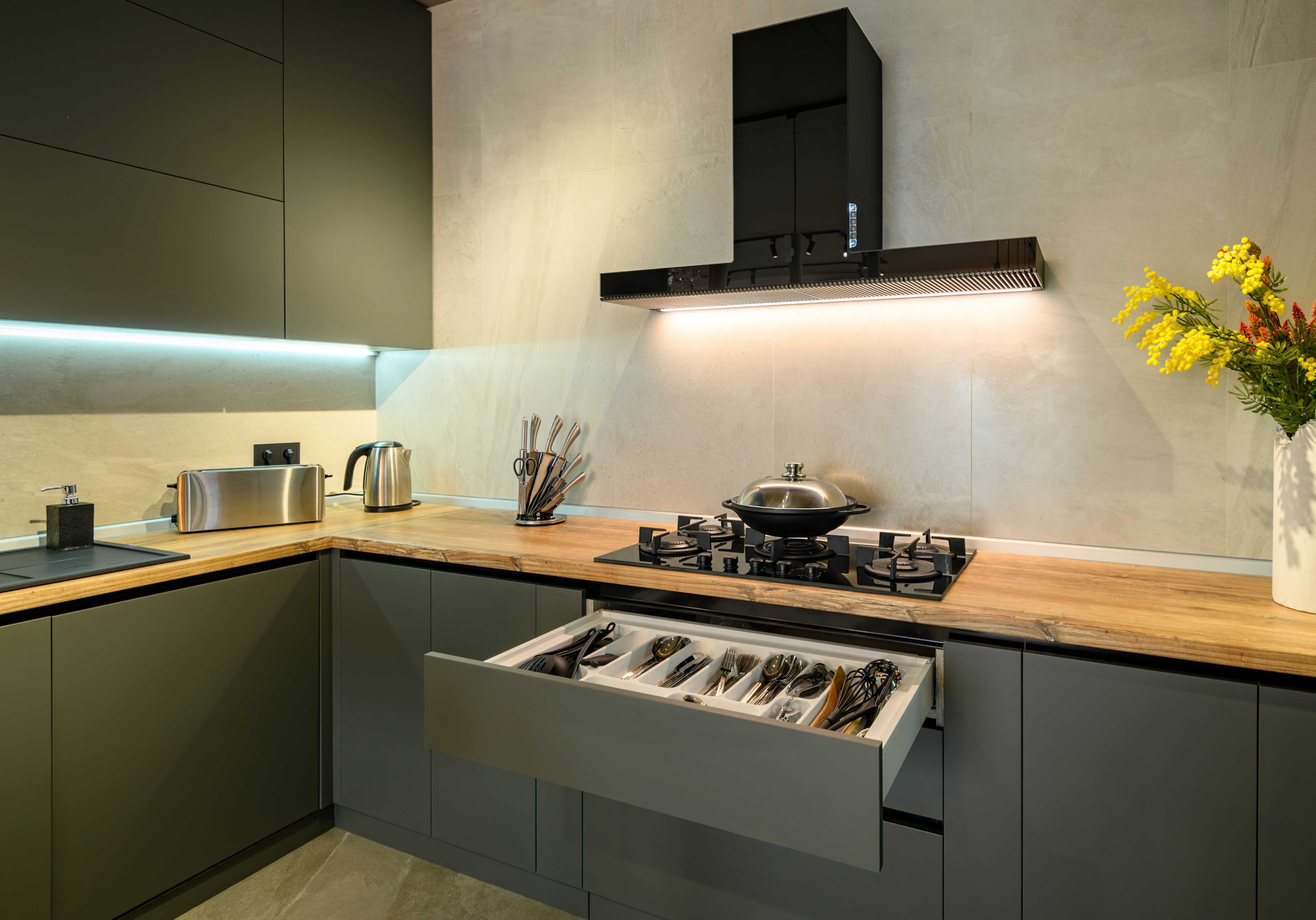 Since butcher block is effectively a large cutting surface, which is edge glued to reach a sustainable solid level, it also serves as the only countertop material that permits direct cutting and slicing. Butcher block countertops can be sealed or left unsealed. However, once the wood has been sealed, it is no longer suitable for food preparation and must be utilized with a separate cutting board.
Additionally fragile, this surface necessitates swift cleanup of spills to avoid staining the wood. Butcher block countertops that are not sealed need to be oiled twice a year.
Amazing Butcher Block Kitchen Counter Styles
1. Walnut Wood Countertops – Federal Way Flooring Refinish
Classic butcher block counters add warmth to any kitchen that no other countertop materials can match. You can choose from various wood kinds, and types of wood grain, go with light, rich, or dark counters, and experiment with edgy finishes. All design eras, from conventional to modern, work nicely with wooden countertops. The edges of your silverware will endure longer on a wood surface than they would on granite or concrete.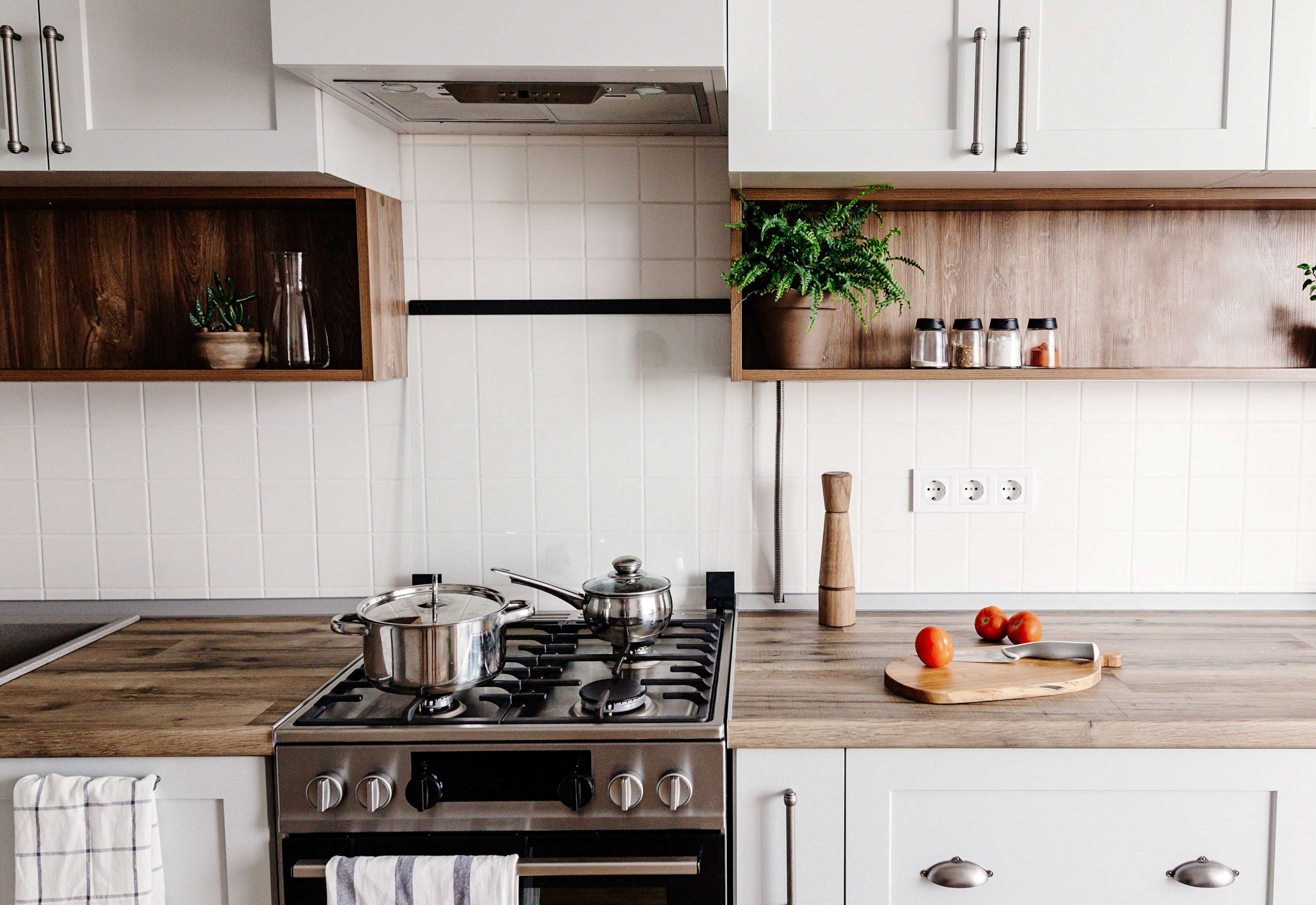 For the most part, edge grain butcher block is commonly used when it comes to walnut wood options. Thus, instead of spending more money on pricey stone, many homeowners would choose inexpensive butcher block worktops made of walnut wood to maximize every dollar of their remodeling budget. They can spend even more money by choosing open shelving for higher cabinetry for a warm kitchen design.
2. Wood Island Countertop
Utilize wood countertops as an aesthetic material alongside other types of surfaces for a striking contrast. For example, mahogany slabs covered in a food-safe finish give the island in your kitchen a warmth and aesthetic look. For a sleek, long-lasting finish, white quartz is used to top the cabinets around the perimeter.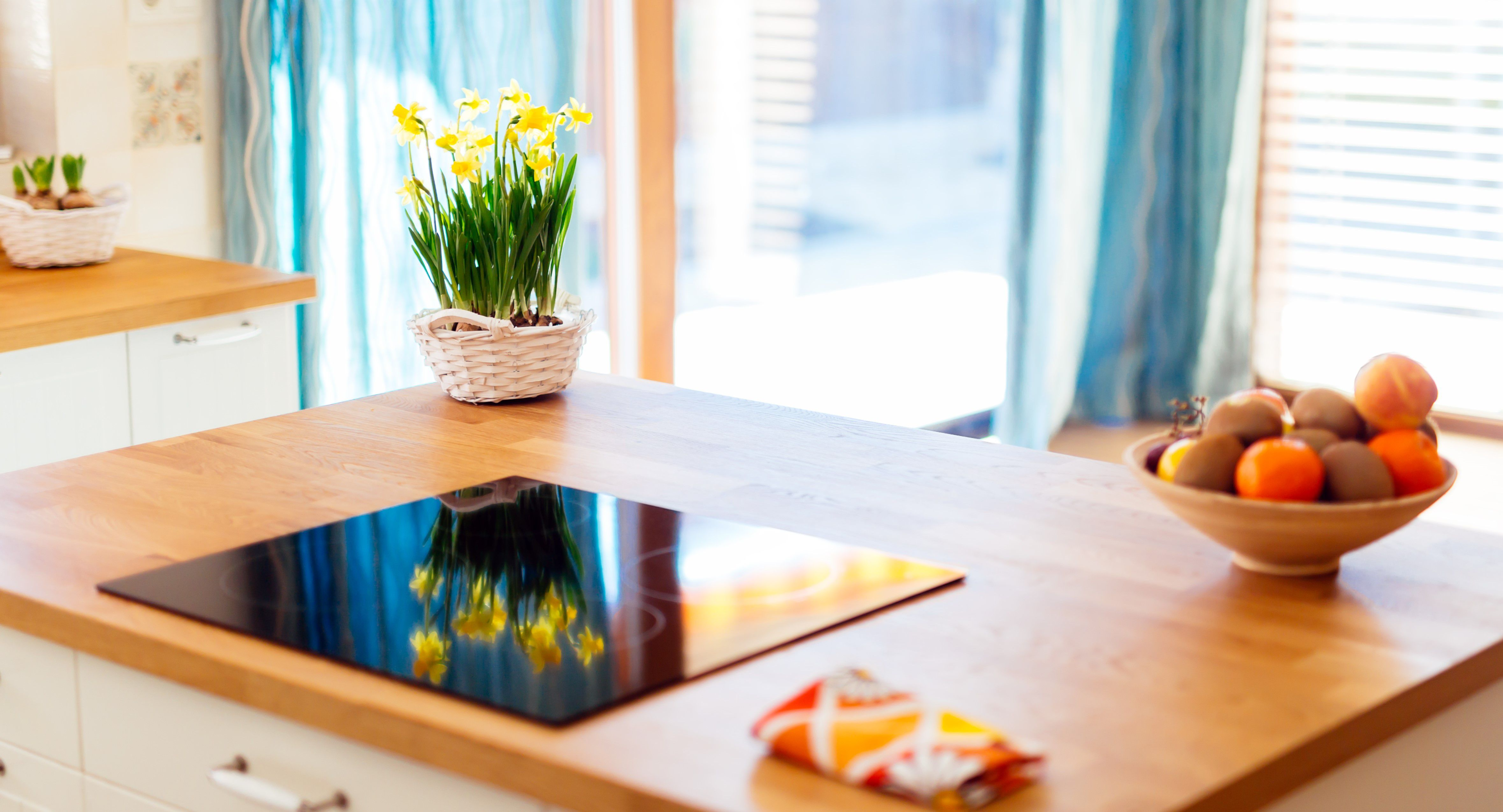 A thin maple wood butcher block countertop that is 3/4 inches thick would be a great choice in a transitional kitchen island. Moreover, incorporating walls covered in lantern tile with gray grout adds yet another level of visual intrigue to the white space.
When the majority of the kitchen seems to be more classically colored, butcher block counters on kitchen islands act as contrast elements. Additionally, remodeling a kitchen island takes far less effort and time than remodeling the entire kitchen.
3. Wood Countertop Combinations
It doesn't have to be a butcher block counter for all the kitchen layouts. The kitchen island has more versatility because of the combination of butcher block and concrete worktops. The wood surface serves as a convenient cooking area while the concrete surface complements the industrial style of the room. The calmer wood surface is better for dishware or knife blades and other sensitive goods.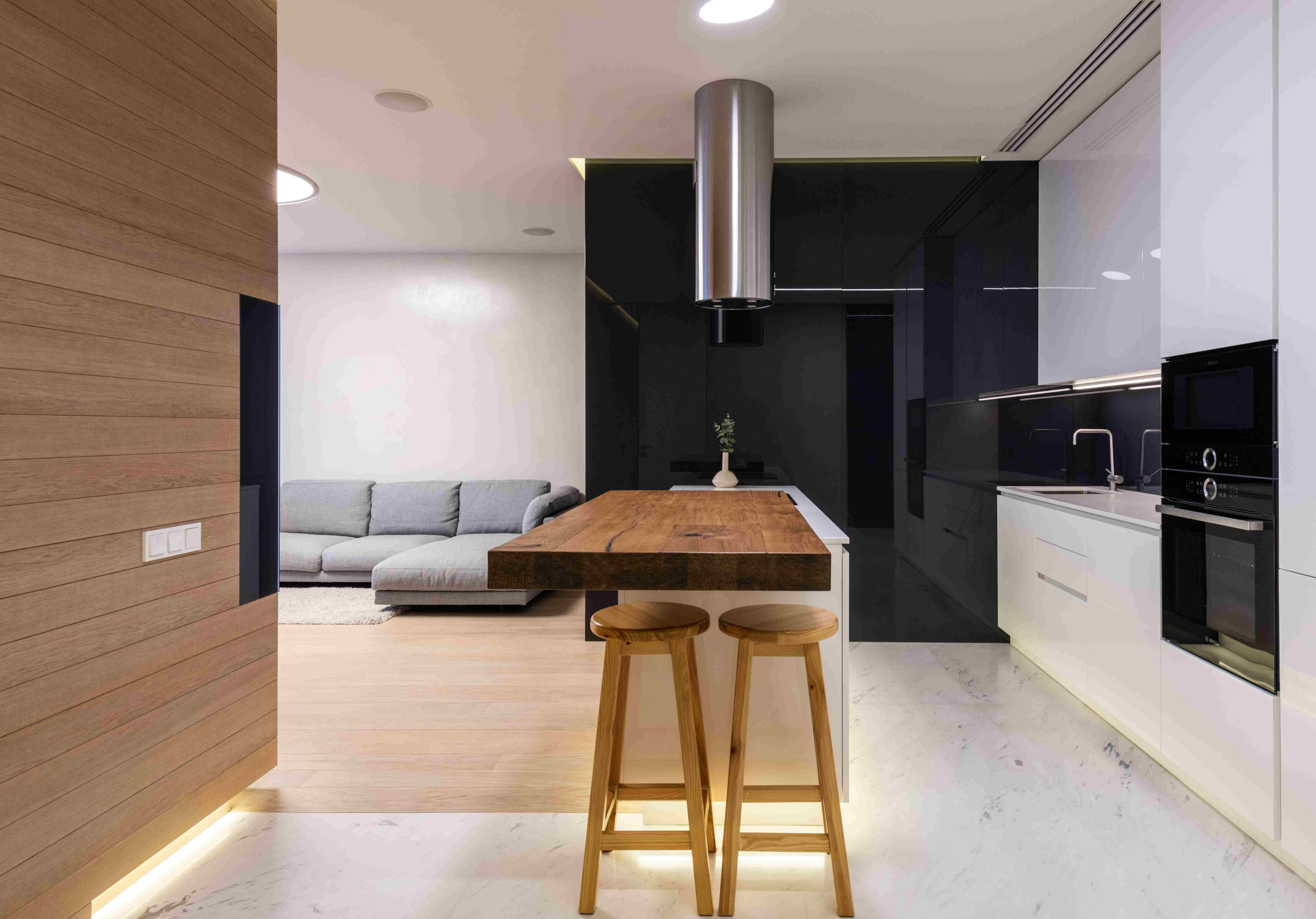 4. Farmhouse Wood Countertops
This style would be an ideal idea for those who are a fan of farmhouse kitchen layouts. Kitchens with a farmhouse aesthetic might look more rustic with wood counters. For instance, the organic material is used with glass-front cabinet doors and a peg rail in the Shaker design. The white-painted cabinets and paneled walls look stunning in contrast to the warm wood finish.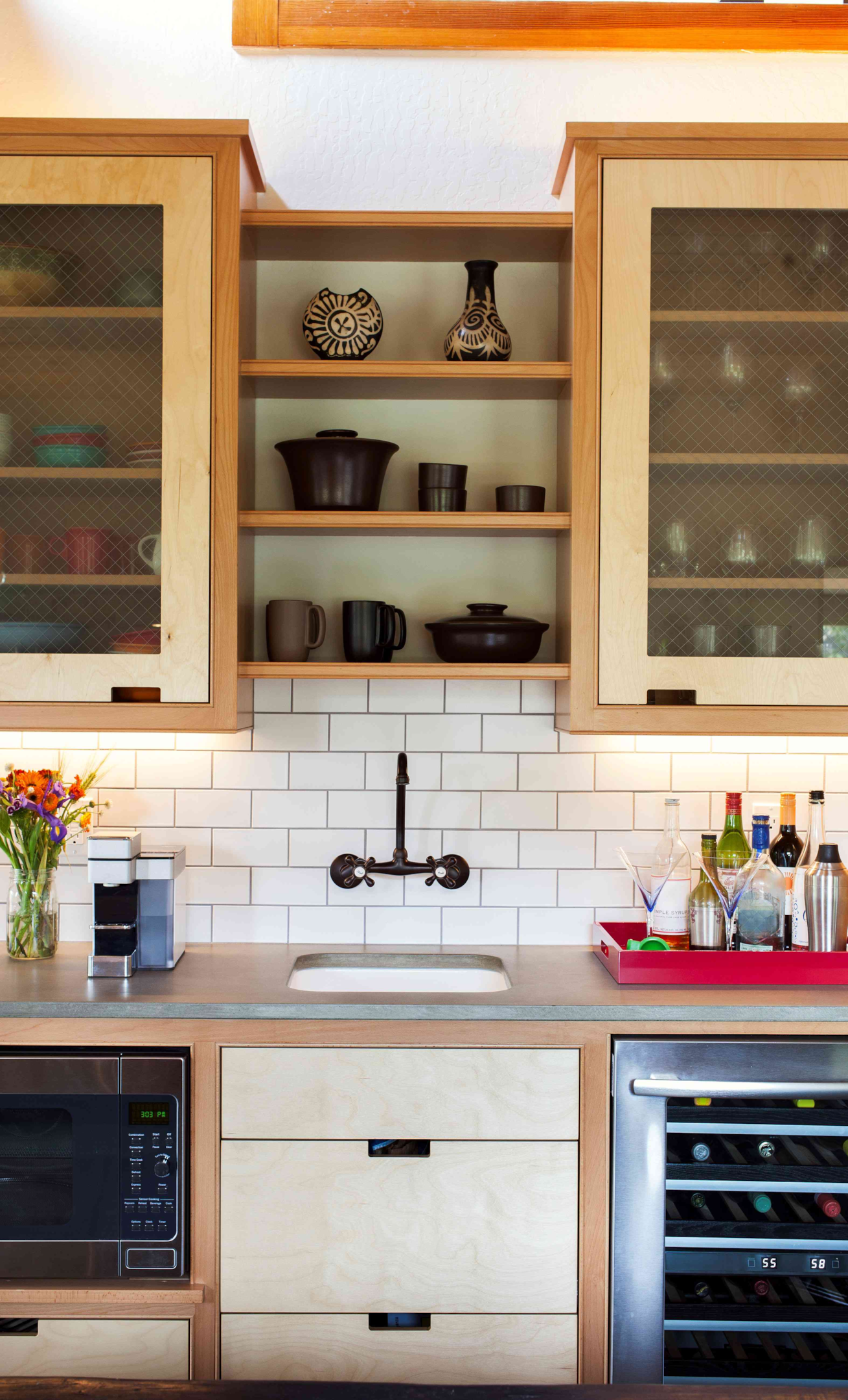 By using shiplap walls, wood floating shelves, crisscrossed accents on the kitchen island, and wood and metal bar stools, farmhouse and rustic themes are combined.
This room has a relaxed vibe thanks to the wood kitchen island countertop, large farmhouse sink, and black paneled window frames.
5. Consider Thick Slab Butcher Blocks
The thick slab countertop look is the newest design style for modern kitchens. While most counters are typically 2″ thick, choosing one 3–5″ thick gives a solid, dignified appearance. Thick butcher block countertops are recommended by many experts because of their longevity and classic vibes for kitchen spaces.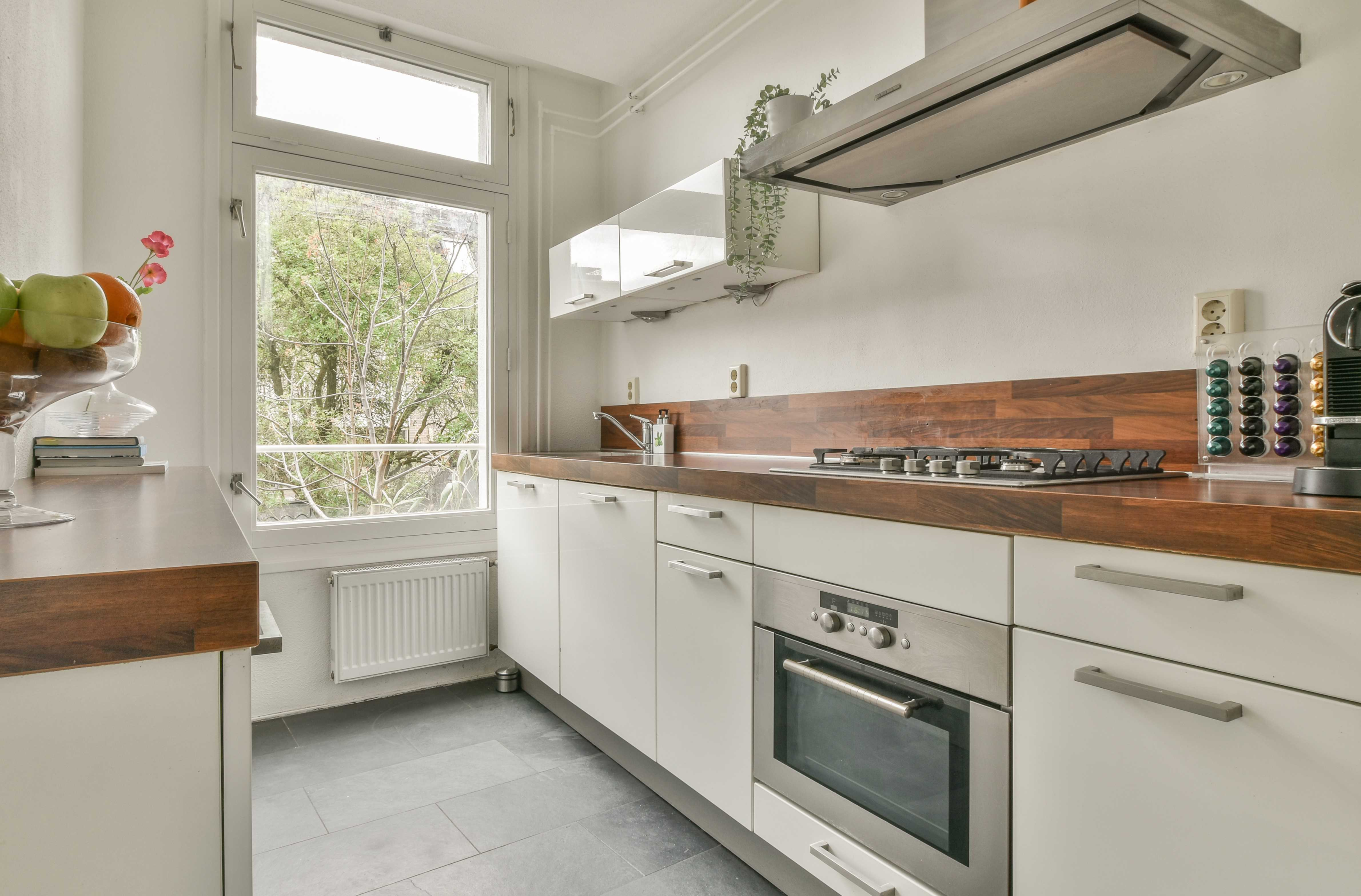 Along with thick countertops, end grain butcher block is also a preferable choice which can not only deliver a vintage look but is also beneficial for the knife as the fibers tighten up after being cut by the knife. Don't forget to lift cabinet heights to account for the height increase caused by the thicker countertops.
6. Curved Butcher Block Countertops
If a sharp and straight shape of kitchen counters is a norm for kitchen countertops design, you can renovate your cooking space by adding a small curve to the countertop design of a modern kitchen to break all the straight lines. A curve, particularly in the seating area, creates an attractive, social space where it's simpler to relax and have a face-to-face chat with each other.
Curved wooden solid wood counters also create a vintage and royal atmosphere for your kitchen, while making your kitchen area differ from others.
7. Finished Wood Countertops
To resist moisture and stains, wood counters need to be finished with a protective coating. You may produce a sturdy surface you can cut on by applying a monthly coating of odorless, colorless mineral oil that is safe for food. When completely dried, clear-coat finishes like urethanes and lacquers remain longer and are typically suitable for food preparation.
A smooth finished coat can also make your kitchen counters look cleaner as well as create a safe preparation space for your food. There will be times when you need to remove a stain, in this case, sprinkling table salt over the dirt and applying half a lemon on it to wipe it off.
8. Light Wood Countertops – Kitchen Remodel Federal Way
Light color wood countertops would be a go-to choice for many homeowners who prefer white or light kitchen layouts. A largely white kitchen that blends in perfectly with a light-colored wood countertop. Light wood provides a matching color tone and adds warmth to the environment where a white countertop would be too frigid and dark quartz or granite would appear to be too gloomy.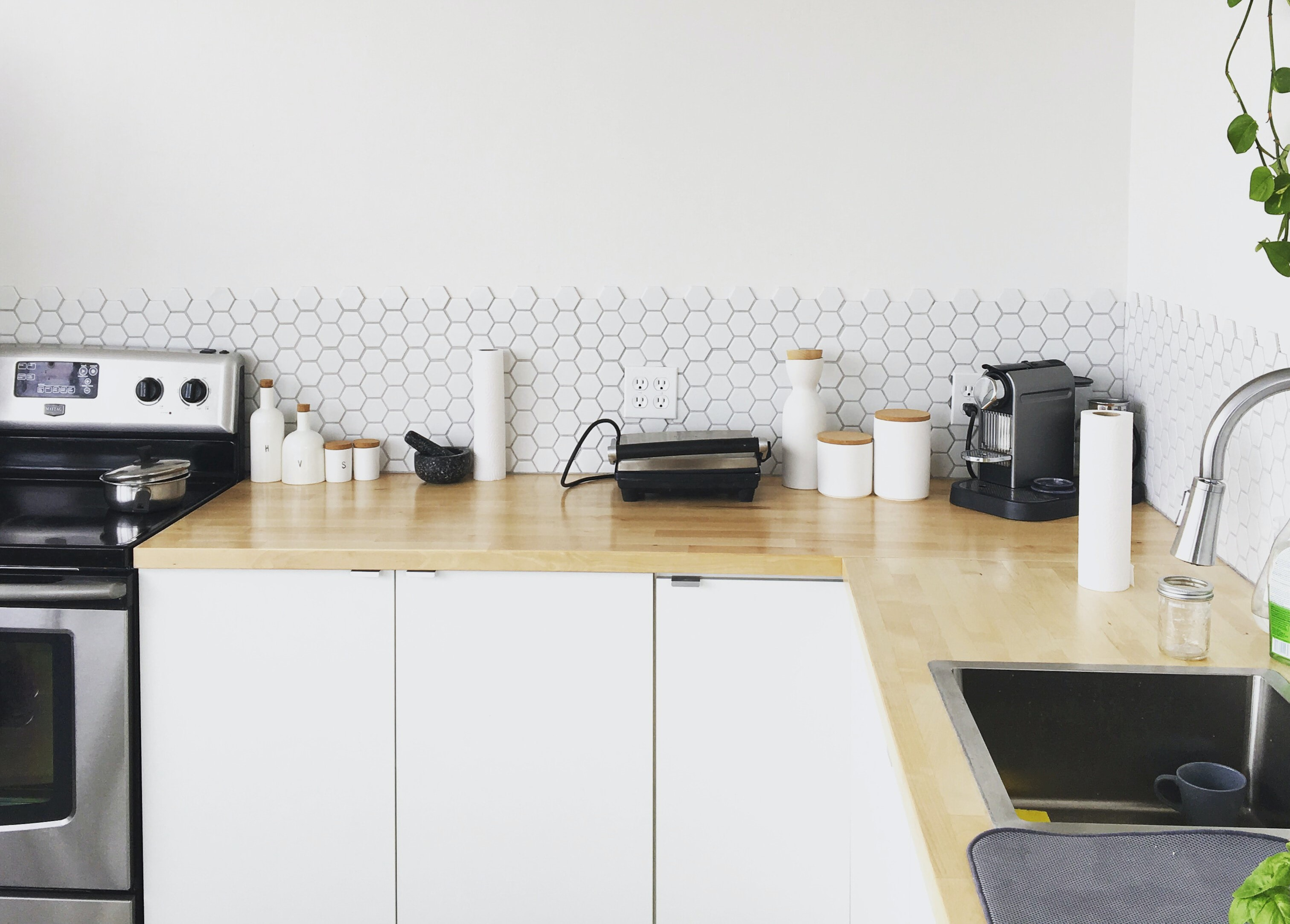 9. DIY Butcher Block Countertops
Install DIY butcher-block countertops for a minimally-expensive kitchen renovation. Making precise cuts for the borders, sink, and faucet will be easier if you trace a template onto cardboard. Using a jigsaw, cut the butcher block, then attach it with corner supports.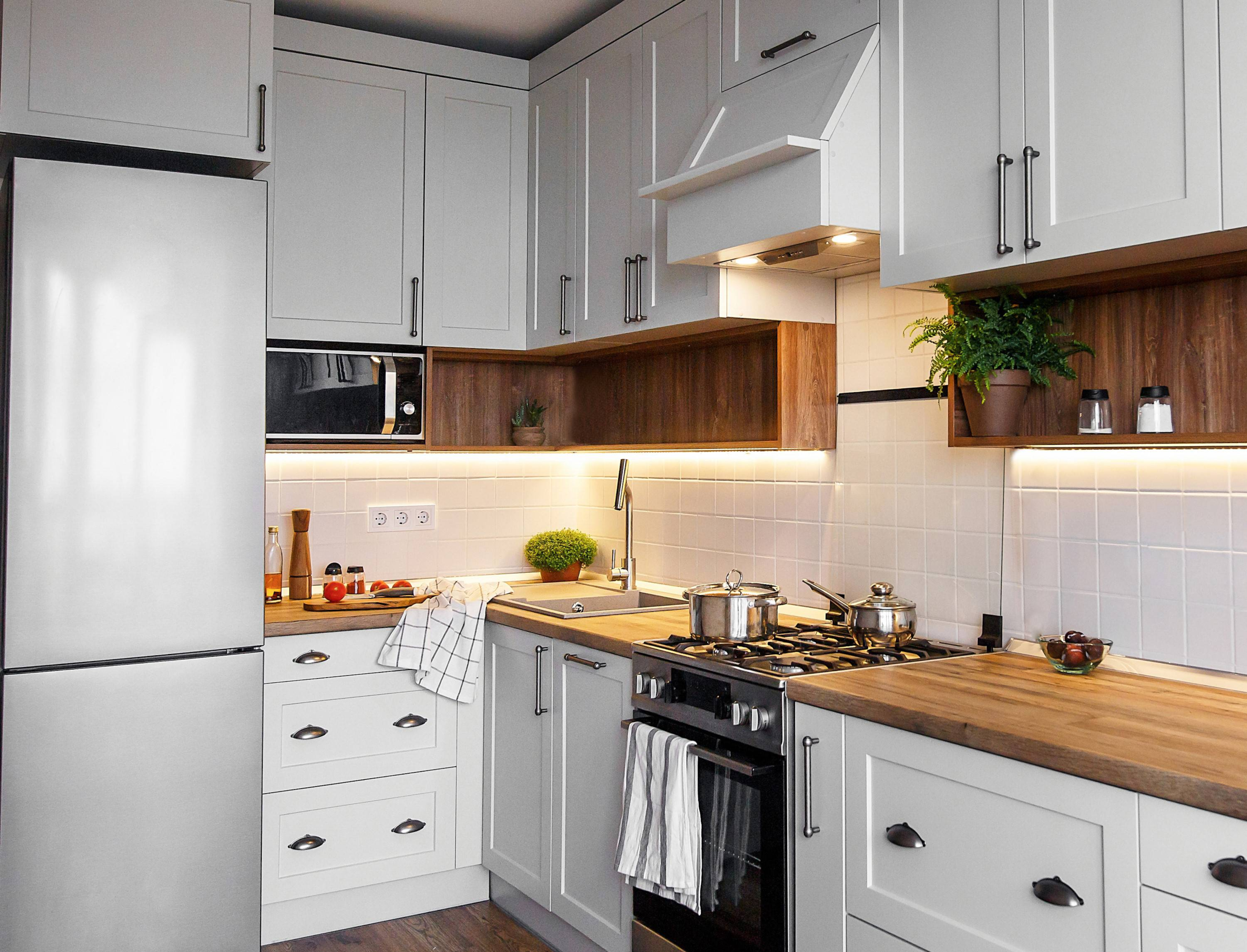 To give it a cozy vibe, inexpensive pine boards are utilized and then slightly weathered. The outcome is a charming laundry room that has never looked better. The free blueprint explains how to construct, install, stain, and age the counters to achieve the desired appearance.
10. Modern Style Butcher Block Countertop
Butcher block countertops often stick with the look of vintage and classic kitchen spaces. However, with an appropriate combination of color palette and modern furniture, butcher blocks can generate a whole new look for the cooking area, making the room become a cozier and more appealing place for the whole family to gather around.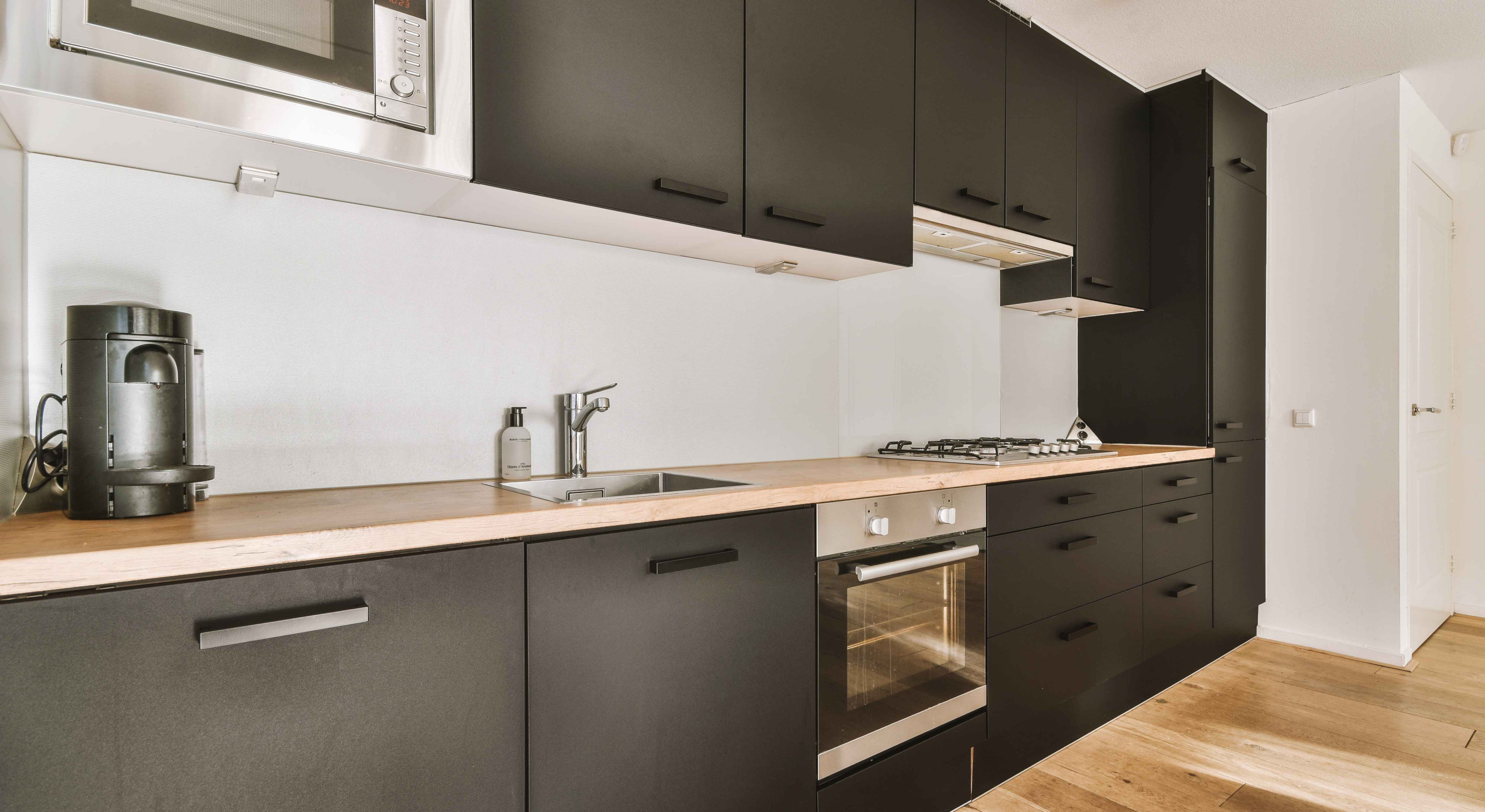 The kitchen's oak butcher block counters look instantly new and fresh thanks to the black walls and perfectly matched island. Many builders also raised the kitchen floor a few inches to provide a small amount of barrier between the cooking area and the main living space.
Choosing a Reliable Contractor – Kitchen Remodel Federal Way
On the Internet, there are a ton of remodeling companies to select from, or you can look up some companies in your neighborhood. When you check the reviews of the firm you want to work with and see a lot of them are positive, that's a good sign that they'll perform a great job with an attractive design that matches your interests.
TTH Builder – High-Quality Remodeling
TTH Builder is one of the best remodeling businesses in the region, which also serves as the top-ranked in the construction industry. If you pay a visit to their website, you can see numerous stunning remodeling projects that can absolutely catch your attention right away thanks to their professional and top-notch services. With TTH Builder, you can be assured that such an expense for home improvement projects will not leave you disappointed!
For more information and consultation, here is some information you might need:
Phone: (026) 258-9103
Website: https://tthbuilder.com/